Attention! Before starting works on dismantling and installing the bushings, note the location of the bushings in the steering rack. Bushings (1-20-975/1188/1195/1292/2010/3000) are different to original, manufactured without outer metal shell and are installed into steering rack without the usage of old bushing's outer metal shell.

Dismantling
Fix the steering rack in the bench screw.
Bend the outer metal shell of the bushing in two opposite places using hammer and chisel.
Remove bushing from the steering rack.
After the dismantling inspect and clean the bearings in the steering rack from rust, dirt and burrs.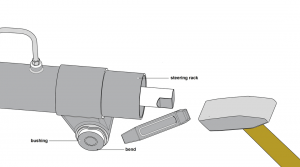 Installation
Lubricate the new bushings' outer surface and bearings in the steering racks with the grease supplied in the kit, or any other consistent grease.
Install new bushings in the bearings of steering rack taking into account their original location.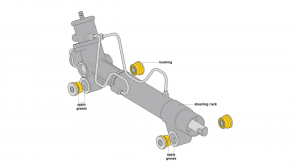 Attention! Tightening force is according to the manufacturer's recommendations.